Satellite vs Aerial: Which One Should You Choose?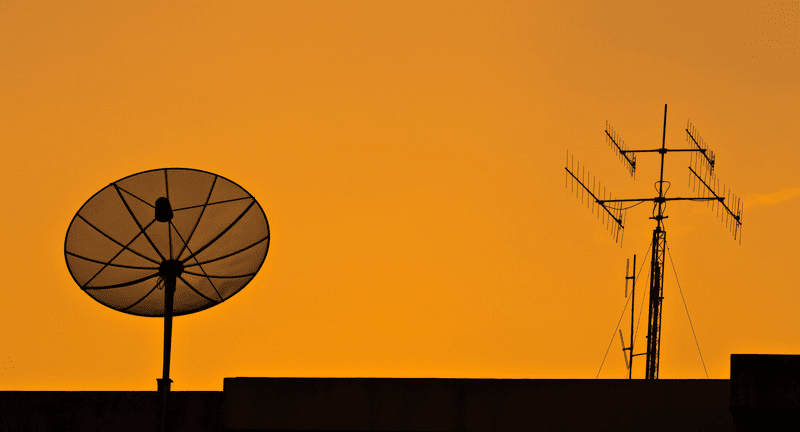 When it comes to choosing the right TV option, the decision between satellite and aerial can significantly impact your viewing experience. With a multitude of factors to consider, it's essential to understand the difference between the two in order to get the most out of your TV. In this blog article, we'll explore the differences between satellite and aerial TV, and provide guidance to make your decision process that much easier.
Satellite TV:
Satellite television sends signals through space via satellites rather than towers to antennas linked to your television set. In order to receive these signals, we rely on a few components, such as dishes, LNBs (low-noise block downconverters), remotes, and satellite mounts.

A satellite dish is placed outside a home or structure to gather satellite signals. The signals are focused onto the LNB by the dish's concave (cupped) shape. The LNB then downconverts the high frequency signals to lower frequencies. Cables carry signals to a satellite receiver, which decodes them to create the appropriate channels and content. Channels, volume, and features may all be accessed with the use of a Sky Remote or something similar, which also controls the receiver.


You may have more viewing choice in general when it comes to satellite TV since they can transmit signals from all around the world, meaning that depending which provider you are with, you may be able to receive a greater variety of channels. It should be noted that due to its high frequency of operation, sometimes interference can occur if any transmitting devices are operating on a similar frequency in your area.
Additionally, since satellite dishes receive signals that are space-bound, bad weather conditions might affect the quality of your TV's picture. The most common reason is heavy rain, however improper satellite alignment or non-waterproof wires could also be to blame.

Aerial TV:
A TV aerial, which is made of metal, picks information for vision and sound and amplifies electromagnetic waves. These aerials—referred to by engineers as "yagi arrays"—have parallel rod-like constructions that maximise signal intensity and metal panels that reflect signals.
With aerial TV, the receiver (the aerial) has to be properly aligned to a transmitter which can be determined by using our postcode checker and this controls the channels you are able to receive.
TV aerials also provide access to Freeview channels. Freeview is a digital terrestrial television platform that offers a wide range of free-to-air channels, including popular channels like BBC, ITV, Channel 4, Channel 5, and many others. By using a TV aerial, you can receive these channels without any subscription fees or ongoing costs, making it a cost-effective and convenient option for those who want access to basic television channels without the need for a satellite or cable subscription. Additionally, Freeview also offers various radio channels, enhancing the entertainment options available to you through aerial TV.
While not immune to bad weather, and depending on location,potentially more limited on signal reach, TV aerials are less prone to malfunction - we also have a blog with advice on how to fix poor picture quality, if this were to happen.

Conclusion:
At the end of the day, both satellite and aerial systems have their benefits to you, and also can have some setbacks. It's all dependent on your personal limitations, whether that's due to budget, location, or the type of content you're seeking - what's best for you is relative to your individual circumstances. If you're looking for more professional advice, don't hesitate to contact one of our expert team members.