How to Create the Best Home Setup for the Euros 2021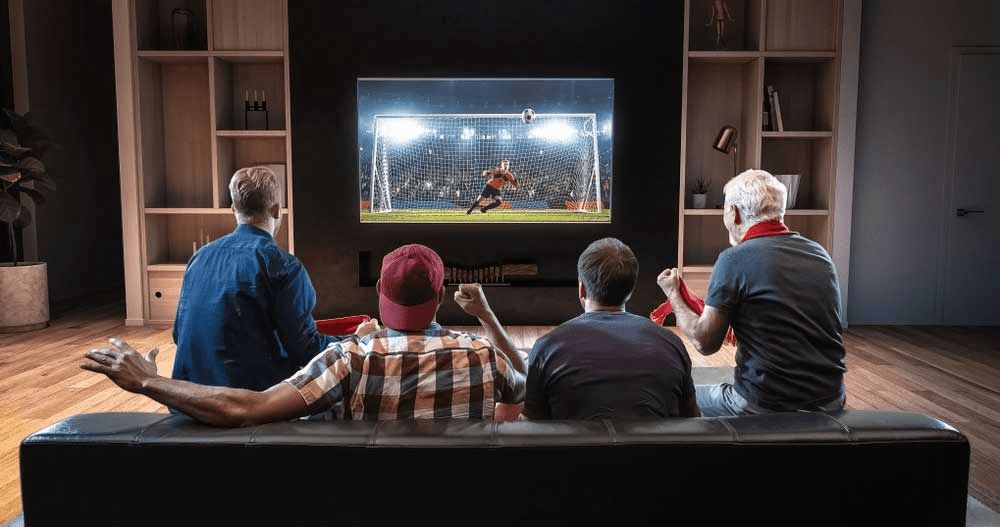 Back in 1966, England's World Cup victory was viewed on small black and white, rented TVs with volume dials. Safe to say our viewing experience has changed a bit over time.
With the 2021 Euros around the corner and cinematic sound systems, UHD screens and offering countless setup possibilities, we are here to help you create the ultimate home viewing experience.
Expand your Sound Settings
With fans finally back in attendance, you need the optimum sound to feel the atmosphere in your home.
Connecting surround sound speakers to your TV is ideal for feeling like you're on the pitch. This can be achieved by connecting a Coaxial Digital Cable, Optical Digital Cable, or Audio cable to the Audio Output jack on your TV.
Then simply connect the other end of the cable to the corresponding jacks on the A/V receiver or your speaker system. Depending on your device, the audio input may be labelled TV INPUT or VIDEO INPUT.
Picture Settings - Less is More
You are probably familiar with the basic picture settings, brightness, sharpness and contrast. But by advancing a little further, you can really feel the benefits come kick-off, this summer.
Sony TVs have a Reality Creation feature, whereas LG TVs have a Magic Eye Care feature and some smart TVs have individual settings for grass and sky. Whilst you would assume that turning all of these features on would achieve the best results, that's not always the case.
Disabling some of these features can actually provide a clearer picture. Contrast Enhancer on Samsung TVs is designed to change the brightness of your screen. However, this artificial boost can affect the colour balance and make your screen overly bright or dark.
Panasonic TVs have a Clear Motion feature to improve fluidity and minimize any blurry images when a camera pans across the pitch. However, this can also provide a jarring effect which you may find distracting when immersed in the game. One key way to ensure the best image quality is to use your devices advanced settings sparingly.
Projectors & Cables
Maybe you're done with screens altogether and it's time to project the match onto the side of your home? Projectors are ideal for large groups if you're hosting a party when England reach the final.
One HDMI cable from your TV or device to the projector will surface to transport your picture. A long HDMI cable also provides flexibility to move the projector around your home, should the weather turn, or wish to create the home cinema experience.
As the Euros will be airing on BBC and ITV, a set-top box output is the best option however, you will be able to play BBC iPlayer on a gaming console such as a PS5. An Optical Cable may also be needed if you're looking to send the sound to an audio system for the ultimate Euros vibe.