Bracket Manufacturing
Bracket Manufacturing
Bespoke and Specialised Mounts
Blake UK can now customise Non Penetrating Roof Mounts (
NPRM

) to your specific requirements.
You Request the following:
Specify Heights up to 5m.
Specify Dish Size up to 2m.
Specify Mast Diameter up to 5" (127mm).
Specify Surface area Requirements.
You provide the dish size.
We Provide the calculations:
Wind Loading Calculation.
Turning Moment Calculation.
The design for the base area and height and supports for the framework and mast.
Advise the number of trays and how much ballast will be required.
Sample below is a 1.8m dish that requires 16 trays with 3 paving slabs in each grid space.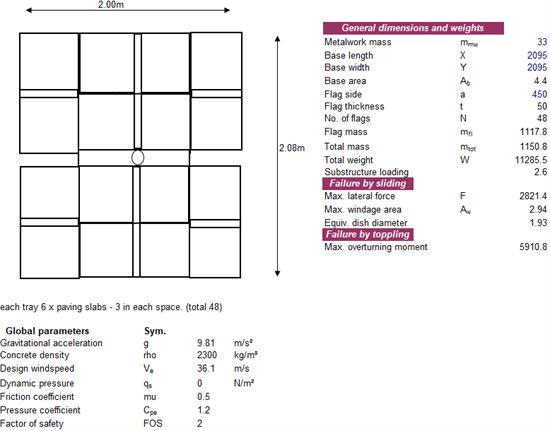 We then design, fabricate and manufacture the product.
Manufactured within 2-4 weeks depending on specification.
Example of standard specifications: please refer to the standard fitting guide for Non-penetrating roof mounts