15 & 20 Way starBOXs
15 & 20 Way starBOXs
Alternative starBOX expanded configurations
In some cases consumers are not clear about the additional choices they have for viewing existing ancillary equipment in a bedroom or other remote room. Those that have distribution around the home could enhance their viewing choices by investing in starBOX RF hubs to distribute Freesat™ PVR, cable, BT vision™ or any other AV device around the home.
The older TVs in nearly all remote rooms will have the analogue tuner available for this purpose and the analogue tuner is no longer used in areas which have switched over leaving plenty of scope to add another channel or two.
The starBOXwas originally designed to allow distribution of RF2 of a Sky™ receiver to multiple rooms. It is however possible to deliver other service platforms with the use of a modulator. In fact by combining the outputs of modulators using a proSPL splitter, more than 1 device can be distributed.
Taking into account the flexibility of what can be achieved by using additional ancillary equipment it is also possible to have starBOXsystems of up to 20 outputs. This is a solution that would suit a large property or small hotel / guest house. It could not, however, be used in apartment blocks or flats due to the requirement to isolate the system. The 15 or 20-way system also opens the opportunity for the business to distribute personalised advertising to the visitor in the same manor that other platforms are distributed.
The following diagrams identify the wiring requirements for:
Freesat

™

(inc.

PVR

).
Products with

RF

loop through.
Products without

RF

loop through.
It is worth noting that with the 20 way Starbox RF Hub systems do not need to co-exist and can be different ends of a large loft which in some cases would reduce the amount of cable required for the installation.
With regard to systems planning it should be mentioned that VHF radio signals are usually more than adequate to stand the ~3.5 dB splitting losses that are incurred through the proSPL204 (2-way splitter) and in any case there is some VHF pre-amplification in the starBOX. In very weak signal areas a larger Band II aerial may be required for noise-free FM stereo reception, or a proAMP12 (broadband amplifier with 2 outputs) may be used as an active splitter. These comments may also apply for DAB.
It is recommended to try the passive splitter approach first, since adding gain where it is not needed will usually make matters worse, not better.
The splitter loss (~4 dB) on the UHF return path will also not usually cause any problem, as there is gain through most of the set-top box 'loop-through'.
In large installations where unusually long cable runs are involved proper system planning is recommended, based on a signal survey to establish the available input levels.
15 or 20-Way starbox
System

for Freesat™ (inc.

PVR

)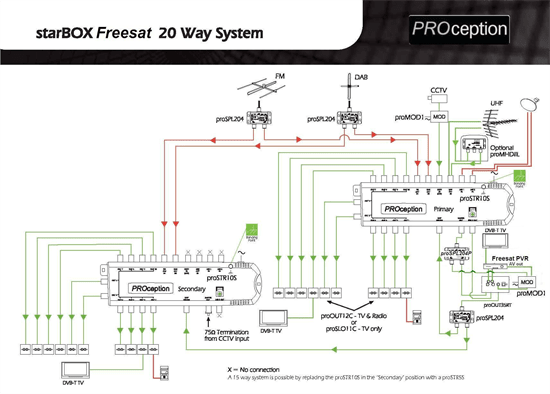 15 or 20-Way starbox
System

for Products WITHOUT

RF

Loop Through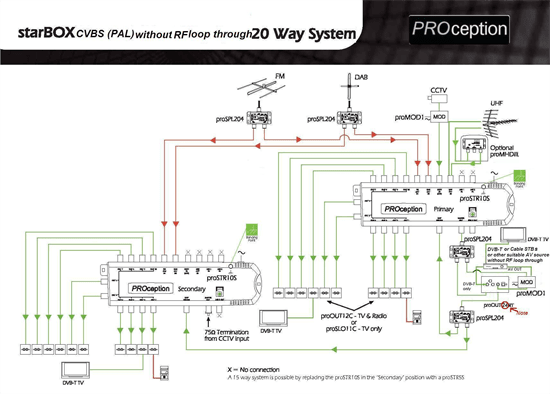 15 or 20-Way starbox
System

for Products WITH

RF

Loop Through